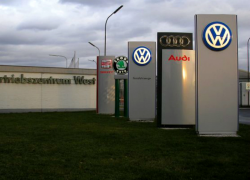 — For a company that has already lost an estimated $30 billion for installing illegal "defeat device" software to cheat on emissions tests, Volkswagen seems content with adding to that amount, at least outside the U.S.
The automaker learned German auto safety authority KBA was ordering a recall of nearly 60,000 VW Touareg 3-liter diesel SUVs equipped with illegal emissions defeat devices.
KBA performed lab tests on the SUVs that indicated devices were activated in controlled conditions, but those same devices typically had no effect during real-world driving. These are the same conditions that caused Volkswagen to recall millions of vehicles worldwide over the past two years.
However, German authorities also discovered problems with the use of AdBlue, the chemical used to remove nitrogen oxides from the system. KBA says all the SUVs weren't affected by the AdBlue problem, but anything that blocks the use of the chemical is a violation of emissions standards.
In a separate development, a German magazine reported that Volkswagen stopped sending T6 vans to dealers because the vehicles emit illegal levels of nitrogen oxides.
German magazine Der Spiegel didn't say a "defeat device" is responsible for the significantly high diesel T6 emissions. VW blamed the problem on incorrect adjustments to the emissions systems that allowed the illegal nitrogen oxides.
The automaker told KBA additional tests will be conducted, probably not a bad idea since the automaker can't sell the vans until the problem is repaired.
The new revelations are another blow to Volkswagen as the automaker tries to heal from its self-inflicted wounds created by knowingly cheating on emissions tests for at least seven years.
In addition to answering to customers and government officials concerning illegal emissions systems, VW is also involved in federal investigations and lawsuits concerning alleged collusion with German automakers Daimler and BMW.
The European Commission and other German authorities are searching for evidence of anti-competitive practices among the automakers.