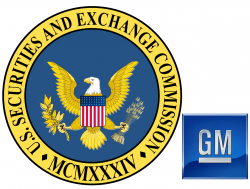 — General Motors will pay a $1 million penalty to the U.S. Securities and Exchange Commission (SEC) to settle charges over GM's internal accounting controls and practices.
The SEC says GM failed to properly account for the impact defective ignition switches would have on corporate financial statements, even leaving its own accountants in the dark about the dangers.
Financial regulators say GM company accountants didn't learn about the problems until November 2013. That left accountants for GM the inability for 18 months to plan for financial losses and vehicle recalls. Without knowing about the ignition switch problems, accountants couldn't accurately prepare financial statements, causing violations of the Securities Exchange Act.
GM says it agreed to pay the penalty, but "without admitting or denying any wrongdoing" and by saying the "settlement does not call into question any of GM's current or prior financial statements or its disclosures."
The SEC penalty is the latest in a string of expensive actions taken against General Motors because of ignition switches that have killed and injured hundreds of people.
Those switches easily moved out of the "run" position to the "accessory" or "off" position with a simple bump of the knee to the key. Even a heavy key ring was enough to make the switches turn off, causing a loss of engine power, power steering, power brakes and airbags.
GM finally started recalling millions of vehicles, but only after waiting 10 years to admit the switches were defective.
GM CEO Mary Barra testified engineers knew about the problems as early as 2004, but employees said the issues were only customer satisfaction problems and nothing related to safety.
While the switches were causing accidents, injuries and deaths, employees were told to avoid using certain words like "safety" and "defect," leaving only "customer satisfaction" issues.
Federal investigators said it was difficult for GM personnel to report problems when employees were told not to use the word "problem."