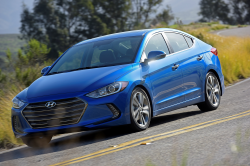 — Hyundai is recalling 99 model year 2017 Hyundai Elantra compact cars because they can suddenly lose power steering.
Hyundai says damaged electronic power steering connectors are the cause of the problem, a problem that won't be fun if it happens while driving at slow speeds or around a curve.
Hyundai dealers will need to replace the power steering motors, something that should get underway toward the end of April 2017.
If you own a 2017 Hyundai Elantra and have questions, call 800-243-7766 and ask about recall number 161.
The same problem with power steering connectors caused Kia to recall a small number of Niro SUVs less than two weeks ago.
Read what owners tell CarComplaints.com about driving Hyundai Elantra compact cars.