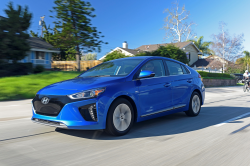 — Hyundai is recalling 218 model year 2017 Ioniq Electric cars that can stall while driving because problems occurred during manufacturing of certain parts.
The Hyundai Ioniq Electric uses an electronic power control unit (EPCU) to supply power to the AC motor and then transform that AC power to DC power to charge the high-voltage battery system.
Hyundai blames the defect on the mold used for the EPCU casting caused small voids in the unit's casting.
The aluminum housing for the EPCU may contain small open areas that can allow antifreeze to contact the control unit's circuit board, causing the car to stall.
The 2017 Ioniq recall will begin September 29, 2017, when Hyundai dealers will begin to replace the electronic power control units on the electric cars.
Affected owners of the 218 cars may call Hyundai at 800-633-5151. Hyundai's number for this recall is 166.