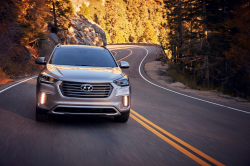 — Hyundai is recalling 420 model year 2017 Santa Fe SUVs equipped with 3.3-liter engines.
The automaker says the crankshaft assemblies may have been manufactured with irregularities in the crankshaft pins, something that can cause the engine bearings to wear down. If the SUV continues to be driven with a worn engine bearing, the engine could become damaged to the point of stalling.
Hyundai first learned of possible problems in May when it received a report about a 2017 Santa Fe engine making a knocking noise. Engineers started studying the subject engine while three more reports were received about the same problem.
One of those reports indicated the engine stalled after the engine completely failed, not a good sign for a 2017 vehicle. Engineers determined the engine bearings had seized due to surface problems on the crankshaft pins.
Hyundai blames the crankshaft pin problems on a heat treatment coil that wasn't positioned correctly in a machine, causing an insufficient heat treatment of the pins.
A driver may notice a problem if they hear engine noise or experience engine hesitation. In addition, the oil pressure and "Check Engine" warning lights may illuminate.
Although a stalled engine in the middle of a highway is a dangerous condition, Hyundai says it doesn't know of any crashes or injuries related to the crankshaft pins.
The recalled SUVs were built between January 26, 2017, and February 13, 2017, and all are equipped with 3.3-liter V6 Lambda engines.
The Santa Fe recall will begin October 18, 2017, when dealers will start inspecting engines and replacing the engines if needed.
Got questions? Call Hyundai at 855-371-9460 and ask about recall number 168.
Hyundai Santa Fe Sport Recall
In a separate action, Hyundai is recalling about 200 model year 2018 Santa Fe Sport SUVs at risk of losing control while on the roads. The automaker says the front coil springs may not have been manufactured correctly and can break under certain loads.
A fractured coil spring can puncture a tire and send the SUV any direction it wants.
Hyundai believes the SUVs are on dealer lots and unsold, so it's possible the dealer will have to perform recall repairs on their own SUVs.
CarComplaints.com has owner-reported complaints about Hyundai Santa Fe SUVs.