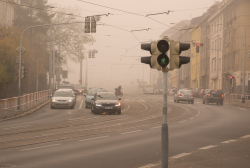 — Back in October 2015, researchers from Harvard University and the Massachusetts Institute of Technology (MIT) conducted a study that concluded illegal Volkswagen emissions could prematurely end the lives of 59 people in the U.S.
Now those same researchers have published a study that estimates 1,200 people in Europe will die early by as much as a decade due to Volkswagen's illegal nitrogen oxide emissions that were emitted between 2008 and 2015. Researchers estimate 500 premature deaths will occur in Germany with the majority of deaths in neighboring countries, including the Czech Republic, France and Poland.
In the 2015 U.S. study, researchers estimated excess VW emissions would cost about $450 million, in addition to the 59 early U.S. deaths. More problems include people taking sick days at work, increased hospital admissions and people facing increased respiratory problems.
However, those numbers resulted from about 480,000 illegal vehicles in the U.S. The affected vehicles in Germany total about 2.6 million sold under the brands of Audi, Skoda, Seat and Volkswagen.
Researchers say the large number of deaths not only relates to the 2.6 million vehicles, but also how diesel cars are driven in Germany compared to the U.S. Europe's average population density is about three times higher than the U.S. and diesel cars in Germany are driven on average 20 percent more compared to the average American car.
The study also says weather conditions in Europe can play a role because nitrogen oxides emitted from an engine can be carried by winds over long distances while reacting to ammonia in the air. Europe contains more ammonia in the atmosphere than the U.S. and the nitrogen oxides mixed with ammonia turns into fine particulates that harm people.
Typical health problems include conditions related to cardiopulmonary and respiratory diseases, not to mention the role smog plays on overall human health.
Based on current information, it's likely researchers will continue to study emissions-related premature deaths from diesel vehicles from various manufacturers because researchers believe Volkswagen isn't the only company with vehicles that emit illegal emissions.