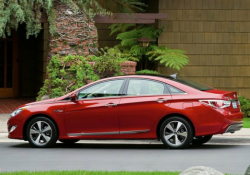 — Hyundai Sonata seat belt problems are no longer the focus of safety regulators as the National Highway Traffic Safety Administration (NHTSA) closes its investigation that was opened in January 2017.
The investigation was opened after two complaints of front passenger seat belts that detached at the seat belt connectors to the anchor pretensioners during two crash incidents.
One 2013 Sonata driver complained the car was hit by another car at an intersection and was enough of an impact to deploy both frontal airbags, but the passenger-side seat belt failed, allegedly causing injuries to the passenger. In the second report, a 2013 Sonata passenger seat belt failed to protect the passenger as the seat belt detached from the floor.
The original investigation included about 313,000 model year 2013 Sonatas but led to a recall in March 2017 of 978,000 model year 2011-2014 Sonata and 2011-2015 Sonata Hybrid cars to repair faulty connections between the seat belt linkages and the seat belt anchor pretensioners.
But seven months later, Hyundai recalled 443,500 of the same cars for the same seat belt problems.
NHTSA continued the investigation after the first recall because safety regulators believed a better fix should be applied by dealers. Regulators were concerned about how the connectors were built to be removed from the pretensioners when working on the cars. But the connectors could release in a crash if they weren't properly reconnected during maintenance.
Hyundai responded to NHTSA in September with an amended report and amended recall procedure for the Sonatas. The new recall would add a permanent label to the connector with graphics and instructions how to properly lock the connector if someone works on the car.
The second recall was good enough to satisfy safety regulators who closed the Hyundai Sonata investigation.
CarComplaints.com has complaints about Hyundai Sonata and Sonata Hybrid cars: