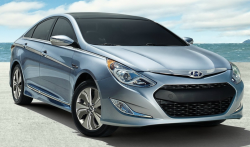 — Hyundai is recalling 443,500 model year 2011-2014 Sonata and 2011-2015 Sonata Hybrid cars that have already been recalled before for the same seat belt problems.
The National Highway Traffic Safety Administration (NHTSA) opened an investigation in January 2017 to determine why seat belts failed in a Sonata crash.
NHTSA received a report about a 2013 Hyundai Sonata that was hit by another vehicle at an intersection. It was reported the Sonata driver-side seat belt worked fine, even though the driver weighed about 280 pounds. But the passenger seat belt failed where the lap restraint attached to the car, yet the passenger weighed only 110 pounds.
In addition, a separate Sonata crash caused the passenger seat belt to detach from the floor.
In March, Hyundai recalled 978,000 Hyundai Sonata and Sonata Hybrid cars to inspect the connections between the seat belt linkages and the seat belt anchor pretensioners and repair them if needed. However, some of the same cars need to be returned to dealers for additional service.
The front seat belt assembly in the Hyundai Sonata uses a seat belt anchor pretensioner fastened to the car's inner structure. The anchor pretensioner is fastened to the inner sill before it's connected to the seat belt linkage.
However, the seat belt can detach from the anchor pretensioner if the connector does not fully latch when the linkage is pressed onto the connector.
After the March 2017 recall, Hyundai and the supplier talked with NHTSA about possible problems from the recall repairs.
Although the condition of a partially latched anchor pretensioner was fixed through the recall campaign, the condition could potentially happen again if the anchor pretensioner was intentionally disconnected and then improperly reconnected by consumers or repair facilities.
The 2011-2014 Sonata and 2011-2015 Sonata Hybrid recall will begin October 2017 when dealers will again verify the connections between the seat belt linkages and the pretensioners, and additionally install warning labels to prevent future seat belt linkage detachments.
Owners may contact Hyundai customer service at 855-371-9460 and use recall number 169.
CarComplaints.com has complaints about Hyundai Sonata and Sonata Hybrid cars: