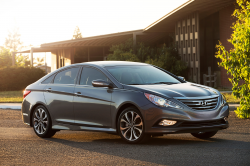 — Hyundai is recalling nearly 978,000 Hyundai Sonata and Sonata Hybrid cars to fix seat belts that can detach from the seat belt anchor pretensioners. Recalled are 2011-2014 Sonata and 2011-2015 Sonata Hybrid cars after an investigation was opened by federal safety regulators in January.
The National Highway Traffic Safety Administration (NHTSA) opened the Sonata investigation after two crash reports of seat belts that detached.
The investigation was originally aimed at only 2013 Sonatas after Hyundai received a report in September 2016 about a frontal collision involving a 2013 Sonata in which the front passenger seat belt detached. The automaker inspected the car but couldn't find what caused the problem.
In November 2016, Hyundai learned of another report of a 2013 Sonata that was struck by another car that failed to stop at a red light. Although the passenger weighed only 110 pounds, the seat belt completely failed and led to the passenger suffering injuries.
Hyundai and the seat belt supplier inspected the vehicle and the supplier recovered the parts in December 2016. Both companies started internal investigations, but neither has been able to determine what is causing the seat belt failures.
The automaker says to ensure the safety of consumers, the recall will include 2011-2014 Sonata and 2011-2015 Sonata Hybrid cars.
The Sonata recall will begin April 7, 2017, when Hyundai dealers will inspect the connection between the seat belt linkages and the seat belt anchor pretensioners, repairing them if needed.
Owner's may contact Hyundai customer service at 855-371-9460 and use recall number 160.
CarComplaints.com has complaints about Hyundai Sonata cars: