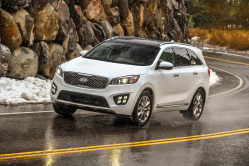 — Kia is recalling more than 2,000 model year 2018 Kia Sorento SUVs to replace the driver and passenger side curtain airbags.
The inflator in the side curtain airbag module is equipped with a "top hat diffuser" that may not have been formed properly during manufacturing. If the side curtain airbag deploys in a crash, the airbag may not deploy correctly to protect an occupant in a crash.
The diffuser can also detach and hit occupants when the airbags deploy.
The side curtain airbag supplier (Autoliv) found the problems during tests conducted in November 2017. Sorento SUVs built after November 18, 2017, do not have the problems because the supplier made changes to its manufacturing process.
Kia says that even though the diffuser can detach from the airbag inflator and become a projectile, the automaker is unaware of any injuries or crashes related to the side curtain airbags.
Both the driver and passenger side curtain airbags will be replaced by dealers once the recall begins by the end of 2017.
The same problem with the Autoliv airbags caused Ford to recall its 2018 Ford Escape SUVs to replace both frontal side curtain airbags.
Owners of 2018 Kia Sorento SUVs may call the automaker at 800-333-4542 and use recall number SC159.
CarComplaints.com has complaints about the Kia Sorento and other Kia models.