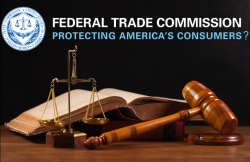 — The Federal Trade Commission (FTC) was created to protect consumers, but a lawsuit filed by six consumer advocacy groups alleges the FTC is turning its back on the safety of consumers by ignoring responsibilities about auto safety defects.
Filing the lawsuit are the Center for Auto Safety, Consumers for Auto Reliability and Safety (CARS), U.S. Public Interest Research Group (PIRG), MASSPIRG, CONNPIRG and CALPIRG, all that accuse federal regulators of allowing the sale of cars with unrepaired safety defects.
The lawsuit seeks for a court to overturn FTC consent orders with General Motors and dealerships Lithia Motors and Jim Koons Management. The FTC consent orders filed with those companies allows them to advertise and sell cars with unrepaired (open) recalls, and do it by advertising the cars as "safe," "repaired for safety," having passed a "rigorous inspection" and qualified to be sold as "certified" cars.
The FTC filed charges against GM and the two large dealerships by determining wording used on advertisements wasn't large enough to tell consumers the cars were defective. However, the government didn't force the dealers to fix the cars before advertising them for sale.
The lawsuit alleges the FTC is allowing dealers to deceptively advertise and sell cars with known defects, including dangerous defects that are responsible for many deaths and injuries.
"Even if there is a 100% certainty that an unrepaired safety recall defect will immediately kill anyone who buys a so-called 'certified' car and their family, the FTC would allow car dealers to advertise that car as 'safe' and 'repaired for safety.'" - Michael Brooks, acting director of the Center for Auto Safety
The lawsuit claims a car can cost an additional $1,200 when it is marketed as being "certified" or going through "125-point" inspections, yet paying the extra money doesn't mean the car doesn't have deadly safety defects.
And while the six consumer groups are up in arms about how the FTC is conducting business, U.S. Senators Schumer, Durbin, Nelson, Blumenthal and Markey termed the FTC's consent orders with GM, Lithia and Koons as "anti-safety" and "anti-consumer."
The consumer groups have more targets in mind after the FTC proposed a similar consent agreement with CarMax, the largest retailer of used cars in the nation, and Asbury and West-Herr car dealership chains.
The final consent order hasn't been released yet, but the groups say the same kind of faulty advertising is committed by CarMax, Asbury and West-Herr. CarMax is accused of marketing and selling its cars as "certified" after passing a "rigorous inspection" even though the cars may have unrepaired recalled safety defects.
Federal regulators say CarMax sold vehicles with all kinds of dangerous defects, including:
Faulty brakes
Wheels that fall off
Axles that break
Hoods that fly up while the car is being driven
Transmissions that slip so the cars slide downhill and crush people
Seat belts that fail in a crash
Takata airbags that injure and kill people
Various defects that cause car fires
The consumer groups are represented in the lawsuit by Meyer Glitzenstein & Eubanks LLP.