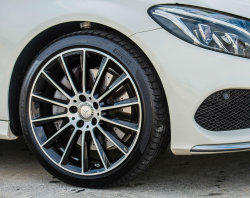 — A Mercedes-Benz cracked wheels lawsuit has been dismissed as the court ruled the Mercedes owners couldn't prove the wheel rims are defective.
Plaintiffs Vincent Luppino, Cliff Stern and Noel J. Spiegel filed the proposed class-action lawsuit against Mercedes-Benz alleging the wheels are overly susceptible to cracking along the radius of the wheel rims.
According to the lawsuit, the wheels are especially prone to cracks when paired with low-profile tires, something Mercedes allegedly was aware of years ago. According to the lawsuit, the automaker has a uniform policy of denying warranty coverage when its wheels crack and fail, all while advertising the durability of the rims.
If the lawsuit would have been certified as a class-action and not dismissed, up to 1.6 million Mercedes-Benz 2006-present vehicles equipped with 17-inch, 18-inch or 19-inch AMG or non-AMG wheels could have been affected.
Based on court documents, the Mercedes-Benz wheels are defective because they bend, warp and fracture during typical driving conditions. Owners allegedly must continually complain to the automaker about cracked wheels to convince the automaker to cover any of the cost of replacement rims.
Although the original Mercedes cracked wheels lawsuit was filed in 2009, it was never certified as a class-action even after the plaintiffs were allowed to amend their complaint multiple times.
When the case finally reached the stage to certify it as a class-action lawsuit, the court concluded the "Plaintiffs would not be able to offer common evidence from which a reasonable jury could find the existence of a design defect."
All the plaintiff's claims (breach of express and implied warranty, breach of the Magnuson-Moss Warranty Act, etc.) rested on their ability to prove a defect caused their wheels to crack.
The court found the plaintiffs needed to offer expert testimony to support their theory of a design defect of the wheel rims, but the plaintiffs did not offer such testimony.
The Mercedes-Benz cracked wheels lawsuit was filed in the U.S. District Court for the District of New Jersey - Luppino et al. v. Mercedes-Benz USA LLC.
The plaintiffs are represented by Berk Law PLLC, Grant & Eisenhofer PA, Gardy & Notis LLP, Carella, Byrne, Cecchi, Olstein, Brody & Agnello, Faruqi & Faruqi LLP, and Sadis & Goldberg LLP.