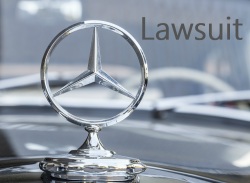 — A Mercedes-Benz lawsuit alleges Valeo radiators have defects that cause coolant to mix with transmission fluid in C-Class and CLK-Class vehicles.
The plaintiff claims the Valeo radiators cause owners to pay thousands of dollars to replace the transmissions, torque converters and the radiators.
The proposed class-action lawsuit includes all consumers who purchased or leased a 2004 or earlier C-Class or CLK-Class Mercedes-Benz vehicle.
According to the lawsuit, Mercedes has been aware of the radiator problem for a long time because dealers were issued technical service bulletins in 2005 about the radiator and transmission problems. The plaintiff says the repairs suggested by Mercedes were only temporary when the affected parts should have been totally replaced.
Plaintiff Richard Garick says his 2003 Mercedes-Benz 320C 4Matic experienced a humming or buzzing noise along with hard shifts of the transmission at about 2,000 RPM, the same symptoms allegedly mentioned in the 2005 dealer bulletin.
In 2015 was when he says he learned of the service bulletin sent to dealers 10 years before, plenty of time for the automaker to warn him and other customers about the alleged Valeo radiator problems.
According to the lawsuit, the plaintiff wouldn't have purchased the vehicle, or would have paid much less for it, if Mercedes-Benz would have admitted the coolant can mix with the transmission fluid.
Once the transmission fluid is contaminated with antifreeze and damages the transmission or torque converter, the vehicle will not shift correctly and will have acceleration problems.
A vehicle will lose it's ability to move forward, leaving drivers and occupants in serious trouble while driving in traffic.
The plaintiff says despite customer complaints about the Valeo radiators and the transmission problems, Mercedes hasn't offered to recall the vehicles or freely replace the affected parts.
The Mercedes-Benz Valeo radiator lawsuit was filed in the U.S. District Court for the District of Massachusetts - Richard K. Garick, et. al., v. Mercedes-Benz USA LLC.
The plaintiff is represented by the Law Offices of Joshua N. Garick, P.C.