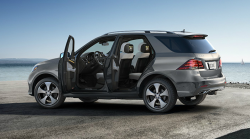 — Mercedes-Benz is recalling nearly 48,000 cars in three recalls to fix problems with airbags, axle bolts and brakes. The largest of those recalls involves 47,799 of the following models:
2016-2017 Mercedes-Benz GL350 4Matic Bluetec
2016-2017 Mercedes-Benz GL550 4Matic
2016-2017 Mercedes-Benz GLE350 4Matic
2016-2017 Mercedes-Benz GLE43 AMG Coupe
2016-2017 Mercedes-Benz GLE450 4Matic
2016 Mercedes-Benz GLE300d 4Matic
2016 Mercedes-Benz GLE350
2016 Mercedes-Benz GLE350d 4Matic
2016 Mercedes-Benz GLE400 4Matic
2016 Mercedes-Benz GLE550e 4Matic
2016 Mercedes-Benz GLE63 AMG
2016 Mercedes-Benz GLE63 AMG 4Matic
2016 Mercedes-Benz GLE63S AMG 4Matic Coupe
2017 Mercedes-Benz GLS63 AMG
Mercedes says the occupant classification system for the front passenger seat may not work correctly to know if a child or adult is in the seat, possibly deactivating the passenger airbag when an adult needs the airbag.
Documents on the National Highway Traffic Safety Administration website don't indicate how the automaker learned about the problem, but Mercedes says there are problems with the calibration settings of the occupant classification systems.
All the recalled cars were manufactured from April 23, 2014, to May 10, 2016.
The recall will begin sometime in January when dealers will update the software for the occupant classification systems. Owners who have questions should call 800-367-6372.
Separately, Mercedes is recalling 48 vehicles with axle bolts on the front and/or rear axle carriers that may not have been assembled correctly, leaving the possibility of fractured bolts. Fractured bolts, no matter where they are located, will cause a driver trouble in keeping the vehicle stable.
Mercedes-Benz says the recalled vehicles are the 2015 GL350 4Matic Blutec, GL450 4Matic, GL550 4Matic, ML250 Blutec, ML350, ML350 4Matic, ML400 4Matic and 2015-2016 GL63 AMG 4Matic vehicles, all built between September 29, 2014, and March 27, 2015.
The recall is expected to begin in February 2017. Mercedes dealers will need to replace all the axle carrier bolts, but until then, owners may call the automaker at 800-367-6372.
Mercedes is recalling another 10 cars, this time 2014 Mercedes-Benz CLA250 vehicles with brake-related problems. According to the automaker, the cars have a fitting that may break where the vacuum lines connect to the brake boosters. A busted fitting will cause a driver to apply more force to the brake pedal than normal to stop the car.
The CLA250 recall should begin in February 2017 when Mercedes dealers will replace the connector end fittings at the brake boosters.
Owners of the 2014 Mercedes-Benz CLA250 may contact the automaker at 800-367-6372.