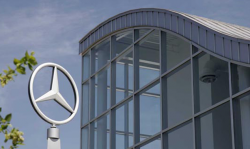 — Mercedes-Benz is recalling 495,000 vehicles in the U.S., and about 1 million worldwide, to fix driver-side airbags that can suddenly deploy without need of an impact or crash.
The problem is not related to exploding Takata airbags that have dominated auto news for a few years.
As can be seen, numerous models are affected by the recall:
2014-2018 CLA250, CLA250 4Matic, CLA45 AMG 4Matic
2015-2018 GLA250, GLA250 4Matic, GLA45 AMG 4Matic, C300 4Matic, C63S AMG
2012-2014 C250, C350, C300 4Matic, E550 4Matic
2013-2014 C63 AMG
2012-2015 C250 Coupe, C350 Coupe, C63 AMG Coupe
2013-2015 C350 4Matic Coupe, GLK250 4Matic BlueTec, GLK350, GLK350 4Matic
2016-2017 C350e, C43 AMG
2015 C400 4Matic
2016-2018 C63 AMG, GLC300, GLC300 4Matic
2017-2018 C300 Coupe, C300 4Matic Coupe, C43 AMG, C63 AMG Coupe, C63S AMG Coupe, C300 Cabriolet, C300 4Matic Cabriolet, C43 AMG Cabriolet, C63 AMG Cabriolet, C63S AMG Cabriolet, GLC300 4Matic Coupe, GLC43 AMG, GLC43 AMG Coupe
2014 E350 Coupe, E350 4Matic Coupe, E350 Cabriolet, E400 Hybrid
2015-2017 E400 Coupe, E400 4Matic Coupe, E400 Cabriolet
2014-2017 E550 Coupe, E550 Cabriolet, B250e
2014-2016 E250 BlueTec, E63 AMG 4Matic Wagon
2012-2013 E350 BlueTec
2012-2016 E350, E350 4Matic
2015-2016 E400, E400 4Matic
2012 E63 AMG
2014-2015 E250 4Matic BlueTec
2013-2016 E350 Wagon
2017 GLC300d 4Matic
2018 GLC350e 4Matic
The automaker learned about the problem after customers reported their airbags deployed for no apparent reason, and in some cases left occupants cut and bruised.
Mercedes says a combination of problems can trigger the driver-side airbags. Inside the steering column is a clock spring, and if that spring breaks and wiring components aren't properly grounded, an electrostatic discharge can deploy the driver-side airbag when it shouldn't deploy. If a driver needs a wake-up call, that would do it.
A driver should get some advanced warning of a problem when a red airbag warning light illuminates on the dashboard.
In addition to the 495,000 vehicles recalled in the U.S., another 400,000 need repairs in the UK and 76,000 are recalled in Canada. The vehicles were manufactured from November 2011 to July 2017.
The recall is expected to begin in December 2017. Mercedes dealers will make sure the steering components are correctly grounded, a job that should take about an hour.
To learn more about the recall, contact the automaker at 877-496-3691.