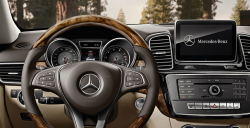 — Mercedes-Benz is recalling more than 58,300 vehicles at risk of losing their power steering while driving.
The automaker names the following models:
2016 Mercedes-Benz GLE300d 4Matic
2016 Mercedes-Benz E400 4Matic Coupe
2016 Mercedes-Benz GL63 AMG
2016 Mercedes-Benz GLE350
2016 Mercedes-Benz GLE350 4Matic
2016 Mercedes-Benz GLE350d 4Matic
2016 Mercedes-Benz GLE400 4Matic
2016 Mercedes-Benz GLE43 AMG Coupe 4Matic
2016 Mercedes-Benz GLE550e 4Matic
2016 Mercedes-Benz GLE63 AMG 4Matic
2016 Mercedes-Benz GLE63S AMG 4Matic
2016 Mercedes-Benz GLE63S AMG Coupe 4Matic
2017 Mercedes-Benz E300 4Matic
2017 Mercedes-Benz GLS63 AMG 4Matic
2016-2017 Mercedes-Benz GL350 4Matic BlueTec
2016-2017 Mercedes-Benz GL450 4Matic
2016-2017 Mercedes-Benz GL550 4Matic
Mercedes didn't release much information about the recall, but did say the problem is the electric power steering connectors that may not be sealed properly. The faulty seals can allow water to enter the power steering control units and take out the ability of the power steering systems to function.
The National Highway Traffic Safety Administration didn't say more about the recall, other than it will begin in May 2017 and dealers will need to replace the connectors, and possibly replace the electric power steering racks.
If you own one of the recalled vehicles and have questions, call Mercedes-Benz at 800-367-6372.
Recalls associated with power steering connectors have been common lately as GM recalled 2017 Buick LaCrosse cars because of power steering connectors. Additionally, Kia recalled Niro SUVs to fix problems with the power steering connectors.
CarComplaints.com has complaints about the Mercedes-Benz vehicles named in the recall.