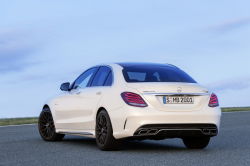 — Mercedes-Benz is recalling more than 2,000 model year 2015-2016 C63 AMG, 2015-2017 C63S and 2017 C63S AMG Coupe and C63 AMG Cabrio vehicles with driveshafts that can break.
The automaker says a rear axle mounting flange can break and cause the rear differential to become out of alignment. This can cause the driveshaft to fail and leave the vehicle unable to continue moving.
Mercedes learned of possible problems in February 2016 when a report arrived about a busted driveshaft. More reports came in over the next few months describing similar problems, something that caused the automaker to collect the parts and open an investigation.
Engineers tested the parts and assumed times of high torque on the rear axles might occur during certain driving maneuvers on slick surfaces in conditions that involved the wheels spinning for short periods of time.
Mercedes developed software that would prevent the torque peaks responsible for the fractured flanges and also determined vehicles made after June 2016 are equipped with modified rear axle differentials not bothered by the problem.
The root cause of the defect is the way the powertrains are configured in combination with missing software that prevents the electronic stability control from sensing the torque peaks.
Mercedes dealers will update the stability system software and chassis control unit software once the recall begins in December 2017.
If you own one of the affected Mercedes-Benz vehicles and have questions about the recall, please call 877-496-3691.