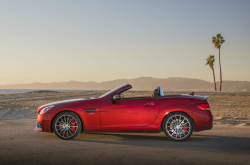 — Mercedes-Benz is recalling more than 5,800 vehicles with brake problems that can cause smoke to be seen near the wheels. The vehicles can also feel as though they are trying to slow down due brake pads touching the rotors.
The recalled vehicles include the following:
2015 Mercedes-Benz SLK 250
2016 Mercedes-Benz SLK 350
2016-2017 Mercedes-Benz SLC 300
2017 Mercedes-Benz SLC 43 AMG
Mercedes learned of incidents of brake systems heating up in 2016 but couldn't replicate the problem. Owners saw smoke coming from the wheel areas and believed their cars were on fire, but the automaker says no fires were discovered.
Engineers looked into the problem and couldn't find any problems with the relevant hardware components, so the investigation moved to the electronic stability program. The automaker determined the root cause of the problem is incorrect electronic stability program software.
Mercedes says if adaptive cruise control initiates the automatic braking and then stops during the early stage of increasing brake pressure, a low pressure could remain in the hydraulic brake system. This will cause the braking system to keep applying a small amount of pressure with the brake pad staying in contact with the rotor. Continuing to drive the car in this condition will cause smoke to appear near the wheels.
The safety defect is caused by constant brake pad application that can cause brake fluid to heat up in the brake caliper, leading to high pressure in the brake system. Although driving stability should remain, brake performance will be degraded and the risk of fire is always present.
If the problem occurs, a driver will likely see smoke near the fender wells and feel the vehicle slow down due to the dragging brakes.
The recall should begin toward the end of June 2017. Mercedes-Benz dealers will update the electronic stability program software, but owners with questions may call the automaker at 800-367-6372.
CarComplaints.com has complaints about numerous models of Mercedes-Benz cars.