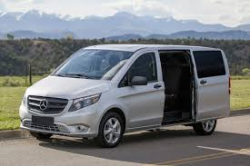 — Daimler Vans is recalling more than 1,300 vans in two recalls, the largest recall ordered to fix vans at risk of catching on fire.
Mercedes-Benz Sprinter 2500/3500 and Freightliner Sprinter 2500/3500
About 1,250 model year 2016 Mercedes-Benz Sprinter 2500 and 3500 and Freightliner Sprinter 2500 and 3500 vans have serious problems that can cause damage to the fuel systems and result in fires.
Daimler determined the bracket bearing of the driveshaft may not have been welded correctly due to misprogrammed welding machines. Two of the seven welds may not hold and cause the bracket to come loose and allow the driveshaft to damage the fuel system, possibly leading to a leak.
Daimler says catch straps should prevent the driveshaft from hitting the road, but a driver will likely hear loud noises coming from under the vans.
There has been no recall date announced, but dealers will need to install three additional rivets to secure the driveshaft brackets.
Mercedes-Benz Metris
About 72 model year 2016-2017 Mercedes-Benz Metris vans are supposed to be equipped with a blind spot monitoring feature, but Mercedes says the instrument panels and steering wheels of the vans don't support blind spot monitoring.
Simply put, vans were sold that were supposed to contain blind spot monitoring systems, but owners didn't receive what they paid for.
Blind spot monitoring is a system that provides audio and visual warnings in the form of red triangular lights that will be activated in the driver or passenger side mirrors when trying to pull into a lane already occupied by another vehicle.
Mercedes didn't say much about what caused the mistakes, other than the documentation for the vans was flawed. Mercedes-Benz doesn't know when the 2017 Metris van recall will begin.
Owners of any of the recalled vans may call 877-762-8267 to learn more.