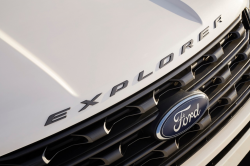 — A NHTSA Ford Explorer exhaust manifold investigation has been upgraded and expanded to include more than 1.3 million model year 2011-2017 Ford Explorer consumer SUVs and Police Interceptors.
The National Highway Traffic Safety Administration opened the original investigation in July 2016 after receiving 154 reports about exhaust odors entering the cabins in 2011-2015 Explorers.
The 2016 investigation included 639,000 SUVs, a number now expanded to 1.3 million after NHTSA identified 2,719 complaints for model years 2011 through 2017. Out of those complaints, there were allegedly 41 injuries and three crashes, with 11 reports coming from police departments.
In addition, Ford says it's received 1,254 warranty claims, 606 reports from dealers and 55 legal claims.
People report getting sick from the exhaust smells with symptoms matching carbon monoxide exposure, including nausea, headaches and lightheadedness. However, NHTSA says there is no data or evidence that carbon monoxide contributed to the crashes or injuries.
Even though NHTSA says there is no proof carbon monoxide caused any of the problems, the agency says testing does suggest elevated levels in some driving situations.
One of the police reports alleges an officer crashed and was injured, and a second report said the Explorer Police Interceptor crashed due to the officer being exposed to carbon monoxide poisoning. A third report alleges the Explorer rolled over and caused injuries to the officer.
The automaker has known of possible problems because Ford has sent dealers multiple technical service bulletins related to exhaust odors, and many of those bulletins were revised as time went on. But many Explorer owners say attempted repairs made by dealers were fruitless and the exhaust smells continued.
This week NHTSA has been in Austin, Texas, investigating claims of carbon monoxide fumes entering Ford Explorer Police Interceptors. Austin police say at least 60 carbon monoxide detectors activated in patrol vehicles and at least seven officers have reported symptoms of exposure.
NHTSA says it learned from police agencies that police versions of the Explorers experienced cracks in the exhaust manifolds that allowed only low levels of carbon monoxide, but the cracked manifolds could explain the exhaust odors. However, the upgraded investigation will try to determine if those cracks are the root cause of the problems, including in non-police Explorers.
CarComplaints.com will update our website with results of the NHTSA Ford Explorer exhaust manifold investigation, but for now check out what Explorer owners say about the exhaust systems:
July 28, 2017 Update: Ford says it will fix possible carbon monoxide leaks in Police Interceptors.