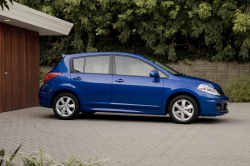 — Nissan Versa hatchback coil springs have caused a recall of more than 1,100 model year 2012 cars because of corrosion from road salt.
The regional Versa hatchback recall is related to a 2015 recall of 218,000 model year 2007-2012 Nissan Versa sedans for the exact same coil spring problems. The 2015 recall was announced after the government started investigating coil springs in Versa cars.
One Nissan Versa owner said the coil spring broke and cut the inner sidewall of a tire while the car was traveling 65 mph. Another driver said the busted coil spring punctured the tire and brake line.
This latest recall will ensure that all Versa sedans and hatchbacks from 2007-2012 will be repaired, as cars built after December 18, 2012, are allegedly equipped with coil springs that contain an improved phosphate coating and better springs.
Nissan says problems during manufacturing caused the coil springs to receive less phosphorous coating than required. In addition, what Nissan calls a "low residual stress" in the coil springs can contribute to the springs cracking and breaking.
The recalled 2012 Versa hatchbacks were sold or registered in the District of Columbia, Connecticut, Delaware, Iowa, Illinois, Indiana, Kentucky, Massachusetts, Maine, Maryland, Michigan, Minnesota, Missouri, New Hampshire, New Jersey, New York, Ohio, Pennsylvania, Rhode Island, Vermont, Virginia, West Virginia and Wisconsin.
Nissan learned that three Versa hatchback owners in Canada had problems with the coil springs on cars that weren't included in the 2015 recall. What followed was three more complaints from Canadian Nissan dealers and then five incident reports from Transport Canada.
Nissan conducted an internal investigation and determined in September the 2012 Versa hatchbacks were equipped with the defective coil springs by mistake.
The recall should begin November 27, 2017, when Nissan dealers will start replacing both front coil springs on the Versa hatchbacks.
Owners may call Nissan at 800-647-7261.
CarComplaints.com has complaints about the 2012 Nissan Versa and other model years of Versa cars.