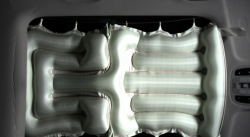 — Sunroof airbags aren't something you see even with the most expensive mass-produced vehicles equipped with panoramic sunroofs, but that may change if a South Korean company gets its way.
Hyundai Mobis, a company that employs 30,000 people and has been in business since 1977, is working on an airbag system that would prevent occupants from being ejected through the sunroofs in rollover crashes.
The company says the sunroof airbag will be placed inside the sunroof and will deploy from the rear to the front of the vehicle. Photos show the airbag looks similar to the curtain airbags used to protect occupants in side crashes and rollover incidents.
The sunroof airbag won't need to deploy during an impact to the side of a vehicle, so sensors are used to detect the turning angle of the vehicle in a rollover crash.
Hyundai Mobis says the airbag will deploy like other vehicle airbags, namely by using an inflator, a somewhat scary word to use nowadays because of Takata airbag inflators filled with the explosive chemical ammonium nitrate that has killed and injured hundreds of car occupants.
With the sunroof airbag, the airbag cushion will be inflated by gas to deploy the airbag across the entire roof surface in about 0.08 seconds.
Many recalls are issued because of airbag problems and the panoramic sunroof may not be much different as the company says the airbag system is more complex than typical car airbags. Hyundai Mobis says a sunroof will need to be made with enough space to install the airbag system, then the airbag must deploy only in certain conditions.
As an example, the company says the airbag must deploy based on if the sunroof screen (cover) is open or closed during a crash because if the vehicle overturns when the sunroof is closed, the airbag will deploy between the sunroof glass and the sun shield.
Hyundai Mobis says it completed road and reliability tests this month, including heat and vibration resistance tests, and test dummies indicated that rollover crashes that would typically cause serious injuries or death were reduced to minor injuries.
Auto industry and safety leaders were introduced to the panoramic sunroof airbags at a conference in June 2017 about how the airbags will be built primarily for high-end SUVs, but the company didn't say what the added cost will be.
Consumers shouldn't start asking dealerships for SUVs equipped with panoramic sunroof airbags because Hyundai Mobis admits that although it has applied 11 patents in developing the airbags, there are still technological hurdles that must be cleared.