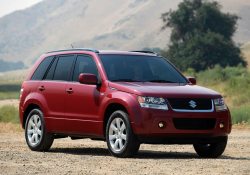 — Suzuki is recalling nearly 800 model year 2009-2013 Grand Vitara SUVs in the U.S. to fix gear shifters that can break and make it impossible to shift gears. The gear shift rear shaft, which connects the shift lever and the manual transmission, can break due repeated right-to-left and left-to-right movement of the shift lever.
The gear shifter problem was first discovered in July 2012 when Suzuki received a report from Nigeria about a customer who couldn't shift the Grand Vitara out of first gear. The automaker collected the parts and found the gear shift rear shaft was broken, causing an inability to shift the transmission.
By 2013, Suzuki had received an increasing number of reports about busted gear shift shafts, but engineers couldn't determine what was causing the breaks.
Based on the assumption that excessive force was breaking the shifters, the automaker decided to make changes to the design to increase the strength of the gear shift lever. At that point in April 2013, Suzuki had received seven reports about busted shifters, a number that would eventually grow to more than 100.
By July 2015, Suzuki was still receiving reports about broken gear shifters involving the original rear shafts, so engineers investigated the fatigue strength of the original shafts and found the shafts didn't meet design specifications. However, engineers determined the upgraded design did meet specifications, but the safety margin was too low and another change to the design was needed.
Engineers switched to a square shape for the shaft instead of the normal round shape and based on test results, the square shape fixed the problems.
As of February 3, 2017, Suzuki received 109 reports about busted gear shifters, and although none of the reports came from the U.S., 10 warranty claims were possibly related to the original faulty design.
The 2009-2013 Grand Vitara recall will begin March 1, 2017. Your Suzuki dealer will replace the gear shift rear shaft with the newly designed shifter.
Suzuki Grand Vitara owners with questions should call 800-934-0934 and ask about recall number VZ.