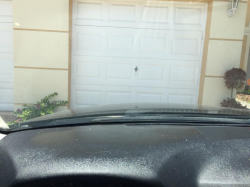 — A Toyota and Lexus melting dashboard lawsuit alleges millions of owners have waited two years for replacement dashboards that Toyota and Lexus promised to replace after a different dashboard lawsuit was dismissed.
The lawsuit comes two years after Toyota and Lexus announced a "customer support program" (ZE6) to replace about 3.5 million dashboards that melt in heat and humidity.
Toyota announced the program only after the automaker had been sued in 2014 over dashboards that crack, melt, get sticky, shiny and emit odors that make some people sick.
The lawsuit was dismissed with the announcement of the customer support program, but now owners regret dropping the suit because many dashboards still haven't been replaced.
The plaintiffs claim Toyota and Lexus made promises they couldn't keep concerning dashboard replacements in the following vehicles:
2006-2008 Lexus ES 350
2003-2008 Lexus GX 470
2006-2008 Lexus IS 250 and 350
2007 Lexus LS 460
2004-2006 Lexus RX 330
2007-2009 Lexus RX 350
2005-2008 Lexus RX 400h
2003-2005 Toyota 4Runner
2005-2010 Toyota Avalon
2007-2011 Toyota Camry and Camry Hybrid
2004-2010 Toyota Sienna
2004-2008 Toyota Solara
The melting dashboard replacement lawsuit alleges Lexus issued a technical service bulletin to dealers in 2011 that provided instructions about what to do if a customer complained about dashboards on 2006-2008 Lexus IS 250 and IS 350 vehicles.
Lexus dealers were told the vehicles "may exhibit sticky interior panels that have a shiny/degraded appearance. These conditions may be present on the Instrument Panel Pad and/or the Door Panel Trim. Revised interior panels have been developed to address this condition."
However, as a service bulletin and not a recall, the automaker didn't have to notify owners and although Toyota vehicles use similar dashboards, Toyota didn't issue a comparable bulletin to its dealerships.
Owners have complained over the years about trying to adjust to driving while blinded by the glare and in some cases, dealing with feeling sick from the smell of melted plastic.
"The dashboard is awful and creates a glare that makes driving unsafe. Please help me!" - 2007 Lexus ES 350 owner / Florence, Mississippi
"Can someone please help me. I have been complaint [complaining] about my melting dashboard for so long until it's becoming a hazard to my health. I cough and wheeze al [sic] the time especially when I am in my car. I know that this sticky tarry liquid is making me sick but no one helping me. I am so frustrated with this that I want leave my car at the dealer and walk away." - 2008 Lexus IS 250 owner / Coral Springs, Florida
The dashboard customer support program involves reimbursement and repair components available for about 3.5 million vehicles.
Under the reimbursement component, Toyota is offering full reimbursement to Lexus and Toyota owners who previously paid to repair cracked, sticky and melting dashboards (or interior side and rear panels for certain Lexus vehicles) as a result of heat and/or humidity, regardless of whether the vehicles are within the warranty period.
The reimbursement component has been available since the program was formally announced in December 2014.
Under the repair component, the automaker is extending the warranty for owners of affected vehicles so owners can have an authorized Toyota or Lexus dealer repair any cracked, sticky and melting dashboards (or interior door panels for certain Lexus vehicles) at no cost to the owner.
The repair component extends the warranty for covered Lexus and Toyota vehicles through at least May 2017, regardless of mileage or the date of first use of the vehicle.
The warranty enhancement will involve primary and secondary coverage. The primary coverage extends the warranty for affected dashboards for all covered Lexus and Toyota vehicles (and interior door panels for certain Lexus vehicles) through approximately May 2017, regardless of mileage or date of first use of the vehicle.
The secondary coverage supplements the primary coverage by extending the warranty coverage for the covered condition for 10 years from the date of the vehicle's first use, regardless of mileage.
The plaintiffs say while they and others continue to wait for repairs and replacement parts, Toyota was able to shut down any related lawsuits filed before the customer service program was announced, and the automaker has controlled the pace and cost of the allegedly small number of repairs made so far.
"Toyota has failed to meet its obligations under the Program, thereby breaching its promise to owners of Subject Vehicles. In fact, Toyota has been unable to provide consumers with any realistic timeline for effectuating repairs for the Program set to end in May 2017. As a result, Toyota has breached its warranties under its Original Warranty and under its Program, leaving millions of consumers that own Subject Vehicles without an adequate remedy." - Toyota/Lexus melting dashboard lawsuit
Since the primary coverage of the program expires at the end of May 2017, millions of customers are still driving Toyota and Lexus cars that remain unrepaired with no concrete timeline for those repairs.
In addition, the secondary coverage that applies to some owners for 10 years from date of first use of the vehicle, those owners will likely see the program expire before the dashboards are replaced. This, according to the plaintiffs, is how Toyota is avoiding its responsibilities and how the automaker avoided previous dashboard lawsuits.
The Toyota and Lexus melting dashboard lawsuit was filed in the U.S. District Court for the District of South Carolina Florence Division - Wanda E. Jeffers and Jill J. Gibson, et al, vs. Toyota Motor Corporation, Toyota Motor Sales, USA, Inc., and Toyota Motor Engineering & Manufacturing North America, Inc.
The plaintiffs are represented by Richardson, Patrick, Westbrook & Brickman LLC, the Law Offices of Mark C. Tanenbaum, and the Jebaily Law Firm.