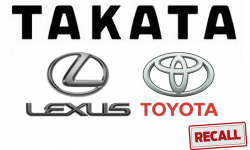 — Editor's note: You can find information on the latest Ford, Lincoln and Mercury Takata recall here.
Toyota says about 543,000 vehicles are recalled to replace front passenger-side Takata airbag inflators, but owners should pay close attention because the recall involves only certain vehicles in certain "zones."
2012 Toyota 4Runner
2012 Toyota Corolla
2012 Toyota Corolla Matrix
2012 Toyota Sienna
2012 Toyota Yaris
2012 Scion xB
2012 Lexus ES 350
2012 Lexus GX 460
2012 Lexus IS-F
2012 Lexus IS 250
2012 Lexus IS 350
2012 Lexus IS 250C
2012 Lexus IS 350C
2012 Lexus LFA
Those vehicles are recalled in what the government calls "Zone A" that includes vehicles originally sold or ever registered in the following locations:
Alabama, California, Florida, Georgia, Hawaii, Louisiana, Mississippi, South Carolina, Texas, Puerto Rico, American Samoa, Guam, the Northern Mariana Islands (Saipan) and the U.S. Virgin Islands.
Next up are vehicles originally sold or ever registered in "Zone B" areas:
Arizona, Arkansas, Delaware, District of Columbia, Illinois, Indiana, Kansas, Kentucky, Maryland, Missouri, Nebraska, Nevada, New Jersey, New Mexico, North Carolina, Ohio, Oklahoma, Pennsylvania, Tennessee, Virginia and West Virginia.
Recalled vehicles in Zone B include the following:
2009 Toyota Corolla
2009 Toyota Corolla Matrix
2009 Toyota Yaris
2009 Toyota Yaris HB
2009 Scion xB
2009 Pontiac Vibe
2009 Lexus ES 350
2009 Lexus IS 250
2009 Toyota IS 350
2009 Toyota IS-F
Additionally, unless included in Zone A or Zone B above, Toyota is recalling the following vehicles:
2006-2008 Lexus IS 250 and IS 350
2007-2008 Lexus ES 350
2007-2008 Toyota Yaris
2007-2008 Toyota Yaris HB
2008 Lexus IS-F
2008 Scion xB
Those Toyota, Lexus and Scion vehicles will need repaired if they were originally sold or ever registered in:
Alaska, Colorado, Connecticut, Idaho, Iowa, Maine, Massachusetts, Michigan, Minnesota, Montana, New Hampshire, New York, North Dakota, Oregon, Rhode Island, South Dakota, Utah, Vermont, Washington, Wisconsin and Wyoming.
Toyota says replacement airbag parts aren't available, so initial recall notices will be mailed January 30, 2017, then owners will receive second notices when parts are available.
Dealers will replace the passenger frontal airbag inflators or the entire airbag assemblies, depending on the model.
Use these phone numbers and recall numbers to contact your automaker if needed.
Toyota/Lexus/Scion customer service: 800-331-4331
Pontiac customer service: 800-762-2737
Toyota's numbers for interim notification for this campaign are:
G1P (Toyota Zone A)
G1R (Toyota Zone B)
H1A (Toyota Zone C)
G2G (Lexus Zone A)
G2H (Lexus Zone B)
H2A (Lexus Zone C)
Toyota's numbers for final remedy for this campaign are:
G0P (Toyota Zone A)
G0R (Toyota Zone B)
H0A (Toyota Zone C)
GLG (Lexus Zone A)
GLH (Lexus Zone B)
HLA (Lexus Zone C)