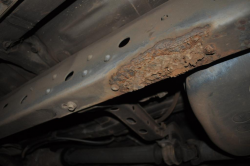 — A Toyota rusted frame settlement agreement is one step closer to being finalized for owners of 2005-2010 Toyota Tacoma, 2007-2008 Toyota Tundra and 2005-2008 Toyota Sequoia trucks.
The rusted frame class-action lawsuit may cost Toyota as much as $3.4 billion to replace truck frames that corrode and rust, making the frames a danger due to structural failures.
The lawsuit alleges Toyota didn't apply enough rust protection on the frames, resulting in premature rust corrosion and severely damaged truck frames. Although Toyota denies it has violated any law or engaged in any wrongdoing, the automaker chose to settle the lawsuit to save on future legal costs.
Attorneys say owners should know their legal rights and deadlines concerning the rusted frame settlement agreement and how the settlement will affect owners.
You are included in the lawsuit if as of December 2, 2016, you formerly owned, currently own, formerly leased or currently lease a 2005-2010 Toyota Tacoma, 2007-2008 Toyota Tundra and 2005-2008 Toyota Sequoia in any of the fifty states, the District of Columbia, Puerto Rico or any territories of the U.S.
The Toyota rusted frame settlement, if approved, will provide each customer a free inspection of the frame and if the dealer believes the frame needs to be replaced, the frame and all associated parts will be provided for free by the automaker.
Dealers will allegedly use a "rust perforation standard" to determine if a frame should be replaced. If a truck frame does not meet the criteria for frame replacement, the Toyota dealer may apply "corrosion-resistant compounds" for free.
Customers will also be reimbursed if they paid out-of-pocket for frame replacements due to rust perforation prior to January 3, 2017.
A fairness hearing is scheduled April 27, 2017, and if the judge approves the agreement, the deadline to submit claim forms and documentation will be 60 days after the court issues the final judgment. By doing nothing, a customer will receive the benefits laid out in the Toyota rusted frame settlement, but will waive all rights to sue the automaker.
Any customer who wants to be excluded has until March 27, 2017, to leave the settlement and retain your right to sue Toyota.
In addition to the billions Toyota may pay for inspections and frame replacements for 1.5 million truck owners and lessees, attorneys for the plaintiffs are asking for fees up to $9.75 million and costs and expenses of up to $150,000.
A special website has been created for information related to the Toyota rusted frame settlement. Visit www.ToyotaFrameSettlement.com or call 800-481-7948.