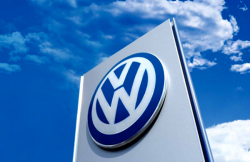 — Canada and Volkswagen aren't getting along, if recent actions taken by the Ontario government is any indicator of "getting long."
The Ministry of the Environment and Climate Change alleges VW failed to abide by Ontario emissions regulations and with search warrant in hand, investigators entered VW's Canadian offices looking for damning evidence.
The investigation is tied to Volkswagen's emissions cheating scheme that caused more than 100,000 vehicles in Canada to emit illegal levels of nitrogen oxides.
Vehicles affected by the scandal in Canada include these 2-liter models:
2009-2015 Volkswagen Jetta
2009 Volkswagen Jetta Wagon
2013-2015 Volkswagen Beetle
2010-2013, 2015 Volkswagen Golf
2010-2014 Volkswagen Golf Wagon
2015 Volkswagen Golf Sportwagon
2012-2015 Volkswagen Passat
2000-2013, 2015 Audi A3
Ontario officials say Volkswagen hasn't been cooperating in the investigation, something that left Canadian authorities no choice but to raid VW's offices.
Officials claim while Volkswagen released public statements that said the automaker would fully cooperate with Ontario investigators, the automaker has been refusing to accept letters from Canadian officials.
Documents related to the search warrant reveal that even though letters were sent to VW by courier, the automaker still refused to accept delivery. Canadian officials claim Volkswagen hasn't been answering questions adequately and in some cases act as if the questions are nothing but a waste of time.
VW also apparently has issues with investigators visiting numerous Audi and VW dealerships asking employees what they knew about the illegal emissions, and when they knew it. Employees allegedly responded they knew nothing about the illegal emissions "defeat devices" until the story broke in the U.S.
Volkswagen agreed to settle Canadian claims with a $2.1 billion payout that would compensate affected owners between $5,100 and $8,000 each, in addition to providing buyback options.