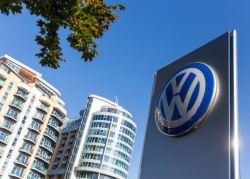 — A Volkswagen clock spring recall may not have been good enough to satisfy owners or the National Highway Traffic Safety Administration (NHTSA) as safety regulators open an investigation after customers filed 90 clock spring complaints since the August 2015 recall was announced.
Several VW complaints specifically allege failure of the clock springs after the cars were repaired under the recall.
The investigation includes nearly 416,000 of the following models:
2010-2014 Volkswagen CC
2010-2014 Volkswagen Passat
2010-2013 Volkswagen Eos
2011-2014 Volkswagen Golf
2011-2014 Volkswagen GTI
2011-2014 Volkswagen Jetta
2011-2014 Volkswagen Tiguan
2012-2014 Volkswagen Jetta Sportwagen
NHTSA calls this latest action a "recall query" to determine if the repairs made by VW really did any good or not. The clock spring problem seems to be well known by VW owners and dealers alike.
"I made a left turn and heard a loud crack and all lights in the control went off. I got a message :Airbag Error, and check engine. I lost all of the steering wheel control and connection to the car. Every turn it makes a big noise and I was afraid the airbag will deploy." - 2012 Volkswagen Passat owner / Miami, Florida
Separately, a 2013 Passat owner said just one clock spring repair wasn't enough.
"Flow Volkswagen in Greensboro NC fixed my steering wheel clock spring under the recall now the clock string has gone out again Volkswagen said they weren't going to fix the problem I had to pay for it out of pocket they fix it less then 6 months ago now its broke again and they said I had to pay for the repairs" - 2013 Volkswagen Passat owner / Troy, North Dakota
NHTSA opened a formal investigation in March 2015 after complaints about steering wheel and airbag problems related to the clock springs in 2012 Volkswagen Passat and CC cars.
At the time, investigators looked at complaints about noise coming from the steering wheels and illuminating airbag warning lights, indicating the airbags were non-functional.
The August recall was ordered due to debris in the steering wheel hubs that caused contamination of the clock springs, allowing them to tear and finally fail. Investigators determined something as simple as strands of hair were enough to contaminate the clock springs and cause the driver-side airbags to fail.
Safety regulators will verify if the clock spring recall was adequate or if VW needs to come up with a different fix and recall the vehicles again.
CarComplaints.com will update our website with results of the investigation.
Read what owners and lessees say about their Volkswagen models named in the recall investigation: