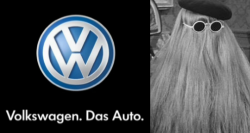 — Volkswagen is in the midst of a hairy situation with 420,000 vehicles with driver's side airbags that can fail, and VW doesn't currently know how to fix the problem.
The automaker is recalling 420,000 model year 2010-2014 Volkswagen CC, Passat, and Tiguan, 2010-2013 Eos and Jetta, 2011-2014 Golf and GTI and 2011-2013 Jetta Sportwagen vehicles.
The recall follows an investigation opened by the National Highway Traffic Safety Administration (NHTSA) in March 2015. NHTSA opened the investigation after reports of airbag problems in the 2012 Volkswagen Passat and CC. The investigation at that time included 30,000 VW vehicles after complaints about noise coming from the steering column and airbag warning lights illuminating on the dash.
Volkswagen traced the problem to hair, specifically long hair or fibers that can contaminate the steering wheel clock spring. The steering wheel clock spring is a spiral-wound flat cable that keeps the airbag powered while the steering wheel is turned.
Once the clock spring is contaminated by long hair or other fibers, it can cause a displacement of the guide loops inside the spring. The out-of-position guide loops can cause tension to a flat cable and cause it to rip. A torn cable can cause the driver's side airbag to lose its ability to deploy due to a problem with the electrical connection to the airbag.
A VW driver should receive a warning about the airbag failure because the airbag warning indicator light illuminates when the clock spring cable ruptures.
Volkswagen doesn't know when the recall will begin because the automaker hasn't figured out how to repair the problem.
With questions or concerns, owners should call VW at 800-822-8987.
Have a complaint about your Volkswagen vehicle? Add your complaint here, about any vehicle. Or read below what others say about the VW vehicles named in the recall.