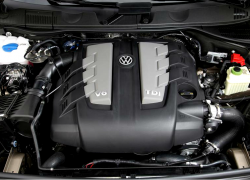 — Volkswagen will have the opportunity to recall and repair 38,000 3-liter diesel vehicles that are part of VW's emissions scheme that fooled regulators and consumers for many years.
The California Air Resources Board (CARB) and the Environmental Protection Agency (EPA) approved the fix that entails an update of software and hardware modifications, in addition to compensation up to $16,114 per vehicle.
Overall, VW will save a lot of dollars by repairing the vehicles and keeping them on the roads in comparison to buying back the diesel vehicles from customers.
As part of the 3-liter diesel agreement, VW was allowed to recall 75 percent of the V6 vehicles as long as the automaker could create a legitimate repair that would pass emissions tests. But with about 20,000 model year 2009-2012 vehicles, it was agreed they would not qualify for repairs and would need to be bought back by Volkswagen.
Based on the original settlement agreement, the following 3-liter TDI V6 vehicles were on the roads illegally for years:
2009-2016 Volkswagen Touareg
2013-2016 Porsche Cayenne
2014-2016 Audi A6
2014-2016 Audi A7
2014-2016 Audi A8
2014-2016 Audi A8L
2014-2016 Audi Q5
2009-2015 Audi Q7
CARB and EPA says Volkswagen has a green light to repair the emission systems of the 3-liter TDI V6 model year 2015 Audi A7 and the 2013-2016 Porsche Cayenne and Volkswagen Touareg.
The 3-liter agreement added more than $1 billion to the approximately $23 billion VW is spending to compensate owners and lessees in the U.S. and Canada. That number would have been even larger if the automaker would have been forced to buy back all the 3-liter diesel vehicles.
The vast majority of the billions spent by VW has been for 2-liter diesel vehicles that as with the 3-liter models, violated U.S. emissions laws. When Volkswagen realized it couldn't create the diesel vehicles it was marketing as "clean," engineers installed "defeat devices" for the purpose of fooling environmental regulators and consumers.
Those devices consisted of sophisticated software that turned on emissions controls when the vehicles were being tested, then shut down the controls when the vehicles were driven normally on the roads.
VW says it is pleased about the regulatory approval to bring the vehicles compliant with federal and state emissions laws, and the automaker is working with regulators as quickly as possible to create approved fixes for the remaining 3-liter TDI vehicles.