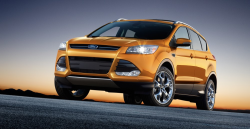 — Complaints about 2013 Ford Escape stalling problems have caused the National Highway Traffic Safety Administration (NHTSA) to open an investigation into 127,000 of the SUVs.
The Escapes are equipped with 1.6-liter gasoline turbocharged direct injection (GTDI) engines that may be overheating and causing issues with restarting after the engines have stalled.
NHTSA has received at least 40 complaints about 2013 Ford Escapes suddenly stalling without warning.
"My 2013 Ford Escape stalled again while driving through a parking lot. The engine loses power and stalls. Red oil lamp and battery sign come on. No System Check message shows. Dealer replaced engine and after picking it up from there it still loses power all of a sudden. The dealer hooked it up to computer and no codes were showing but there is clearly something wrong." - 2013 Ford Escort owner /Palmdale, California
"Since January (it is now May 16) my car has been towed to two separate dealerships for stalling issues on SIX different occasions. This last issue, the car stalled and seems to have short circuited. I am so tired of hearing "unable to replicate", paying for non-Ford rentals, because no Ford rentals are available, and continuing to pay my car payment when I have hardly had my car this year. It is such a shame the Ford cannot keep a car running when it doesn't even have 50,000 miles on it." - 2013 Ford Escape owner / Beverly Hills, Michigan
Owner reports say the SUVs stall at any speed and many of those owners described overheating conditions, although safety regulators haven't confirmed anything at this stage.
NHTSA didn't release more details about the 2013 Escape investigation, but investigators will try to determine if a safety defect exists and if the SUVs should be recalled.
Ford did recall 2013-2014 Escapes in August 2014 after complaints about stalling engines, but the recall involved Escapes with 2-liter engines that stalled because of wiring harness problems.
CarComplaints.com has complaints about stalling engines in 2013 Ford Escapes.