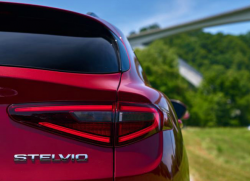 — Fiat Chrysler (FCA US) has announced two recalls for 2018 Alfa Romeo Stelvio SUVs, bringing the number of recalls for the new SUVs to four in the last four months.
Although Chrysler announced two recalls, both involve nearly 12,600 model year 2018 SUVs and both recalls were ordered because of corrosion problems.
In one recall of 12,595 SUVs, water can leak into the body control modules and corrode the modules and connectors.
A driver may notice all sorts of symptoms, including illuminated warning lights, windshield wipers that don't work, turn signals activating for no reason, a failing horn and a complete loss of interior lighting.
FCA opened an internal investigation in September 2017 after the automaker learned of a warranty claim concerning corrosion on the front wiring harness connector of a 2018 Stelvio.
A second investigation was opened after Chrysler realized how many electrical functions can fail and engineers found water intruding through the sheet meal sealant at the A-pillar.
Engineers used hand-held wand testers in the engine compartments and performed water tests at the end of production to finally confirm how water was entering the modules.
Chrysler dealers will install additional sealing protection to prevent water from entering the body control modules and connectors when the recall begins May 18, 2018.
The second recall also involves 12,595 model year 2018 Alfa Romeo Stelvio SUVs with corrosion problems, but this time the corrosion can cause the liftgates to unintentionally open while driving under 3 mph.
Chrysler opened an investigation in January after receiving a warranty claim concerning problems with the tailgate of a 2018 Alfa Romeo Stelvio.
Engineers, as in the case of the body control module recall, used hand-held tools and determined water could leak through faulty seals in the rear liftgate panels. Water also leaked through sealing at the rear tail lights and corroded the wiring harnesses, connectors and switches.
Alfa Romeo dealers will install additional protection to prevent water from leaking into the components and wiring. As with the previous recall, May 18 is the beginning of the recall, but with questions about either recall owners should call 800-853-1403.
In March, Fiat Chrysler recalled more than 1,500 model year 2018 Stelvio SUVs to fix problems with software that caused the computers to think the windshield wiper motors were overheating.
And in January 2018, the automaker recalled 300 model year 2018 Alfa Romeo Giulia and Stelvio vehicles with contaminated brake fluid.