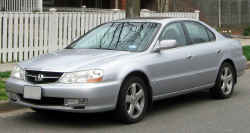 — The driver of an Acura TL says Honda waited too long to issue recalls that would have prevented him from suffering from a Takata airbag explosion.
According to the lawsuit, Juan Carlos Veras-Rodriguez was driving a 2002 Acura 3.2 TL on September 6, 2017, in Santurce Puerto Rico when the Acura "lightly bumped" another car in front. The Takata frontal airbag allegedly exploded and sent shrapnel into the plaintiff's face, chest and neck, allegedly causing severe lacerations.
The plaintiff claims he lost consciousness and awoke dazed and confused believing he was bleeding to death.
The plaintiff claims he was helped from the Acura by pedestrians and laid on the sidewalk as people tried to stop the blood flowing from his neck and chest. The police arrived and contacted an ambulance that transferred the driver to an emergency room.
Veras-Rodriguez says he was treated for severe trauma and released the next day with instructions to return on September 26 to have the sutures removed.
However, Hurricane Maria devastated Puerto Rico along with the hospital that was supposed to see the plaintiff on the 26th. The plaintiff says he had to wait until the end of October to have the stitches removed.
The lawsuit alleges the plaintiff "remains mutilated and scarred in his neck and chest, a gruesome sight" that has greatly impacted his sense of security and self-confidence.
The plaintiff says he wouldn't be in this condition if the Acura TL wouldn't have been equipped with dangerous Takata airbags that caused him harm instead of protecting him from bodily harm.
In October 2014, the National Highway Transportation Safety Administration (NHTSA) released a notice that urged car owners to act quickly if they received recall notices about Takata airbags.
However, it was allegedly not until about a month after he was injured did the plaintiff receive five recall notices about his Acura. The recall notices said the defective Takata airbags could injure or kill occupants even in a minor crash such as the one experienced by the plaintiff.
Veras-Rodriguez claims his sister had to take him in and care for him for about two months as she "suffered greatly seeing his beloved brother mutilated and scarred in his neck and chest, a gruesome sight that has greatly impacted" her.
The Acura TL Takata airbag lawsuit was filed in the U.S. District Court for the District of Puerto Rico - Juan Carlos Veras-Rodriguez, et al., v. American Honda Motor Company, et al.
The plaintiff is represented by Lex Services LLC, and Gerardo A. Quiros Lépez, Esq.