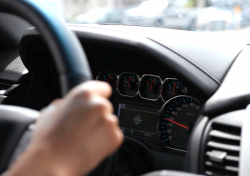 — Advanced driver assistance systems can be lifesavers as long as drivers know what the systems will do, but researchers found drivers put great trust in certain safety technologies without knowing the limitations of those systems.
Advanced driver assistance systems (ADAS) typically include lane keeping assist, blind spot monitoring and forward collision warning, although some vehicles have additional features labeled as ADAS.
The AAA Foundation for Traffic Safety found consumers need to spend more time with the systems before placing too much trust in the technology.
Researchers from the University of Iowa, commissioned by the AAA Foundation, determined nearly 40 percent of drivers did not know forward collision warning and automatic emergency braking systems had limitations.
Drivers of 2016-2017 vehicles also commonly confused how separate features worked, such as not knowing forward collision warning systems deliver warning signals but don't automatically apply the brakes.
Researchers also determined one in six car owners didn't even know if their cars were equipped with automatic emergency braking, a feature that automatically applies the brakes if drivers fail at the task.
Drivers said they liked cars equipped with blind spot monitoring systems designed to help detect other vehicles traveling in the "blind spots." But 80 percent of drivers didn't know the limitations of the systems in certain conditions.
According to researchers, most drivers didn't know the systems can't detect vehicles passing at high speeds. In addition, the majority of drivers didn't know the systems could fail to detect cyclists and pedestrians.
According to safety researchers, driver assistance systems earn various levels of trust, with blind spot monitoring systems taking the top spot with 84 percent of drivers trusting the systems. About 82 percent of drivers say they trust rear cross traffic alert systems while 77 percent place their trust in lane departure warning technology.
About 73 percent have no problems trusting lane keeping assist features and 69 percent trust forward collision warning systems. And finally, 66 percent of drivers put their trust in automatic emergency braking.
About 25 percent of drivers using blind spot monitoring or rear cross traffic alert systems claim they have no issues depending solely on the systems without monitoring the systems and surroundings. The same percentage of drivers also claim distractions aren't a problem when lane departure warning systems are activated because the systems will protect them.
Researchers believe ADAS can prevent about 2.7 million crashes and more than 9,000 fatalities each year if all cars are equipped with the systems. Nevertheless, any benefits can be cancelled if drivers don't understand the limitations.
According to AAA, half of drivers said dealerships offered training about driver assistance technology and nearly 90 percent of those drivers took advantage of the programs and completed the training.
If your dealer doesn't offer free training about the technology, the owner's manual should be your new best friend until you understand how the systems work.