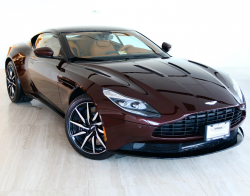 — Aston Martin is recalling more than 1,000 model year 2017-2018 DB11 V12 Coupes and DB11 V8 Coupes because the driver airbags can unexpectedly deploy without warning.
The automaker determined that on certain DB11 vehicles an electrostatic discharge can cause the airbags to deploy without a crash. However, the electrostatic charge must be combined with a damaged steering column control module clock spring and a lack of grounding of the steering column.
Aston Martin was notified by the supplier about a possible problem with a steering column in October 2017, so the automaker launched an investigation into the issue.
Aston determined the problem is bad enough to warrant an official recall, although no real-world airbag deployments have been reported.
The automaker says dealers will add more grounding to the steering columns and add contact bridges and contact springs.
The recall should begin March 1, 2018. Aston Martin dealers will include the additional parts, but owners with concerns may call the automaker at 888-923-9988.