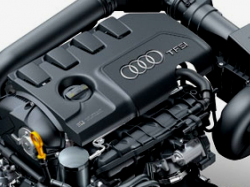 — An Audi coolant pump recall has been issued for about 1.2 million vehicles worldwide due to a risk of fires once the electric pumps overheat or short-circuit, with nearly 343,000 of the vehicles recalled in the U.S.
2013-2017 Audi A5 Cabriolet
2013-2017 Audi A5 Sedan
2013-2017 Audi Q5
2012-2015 Audi A6
2013-2016 Audi A4 Sedan
2013-2016 Audi A4 allroad
The coolant pump recall was ordered after the same vehicles were recalled for the same problems in January 2017 to update engine control software with software that would switch off the coolant pumps if they started to overheat.
Drivers would also be warned about the problems through the illumination of indicator lights. However, the automaker didn't replace the pumps to repair the root cause of the problems. That was a mistake, as owners kept complaining about overheating pumps after the recall repairs were completed.
Audi collected affected parts and allegedly couldn't find what was causing the pumps to overheat. But an intensified investigation finally determined moisture was the primary cause and debris was also a factor because it blocked the pumps and created even more moisture.
Audi says the only way to fix the problem is to replace the coolant pumps, something the automaker likely wishes it would have performed during the first recall.
The automaker says replacement pumps aren't available and may not be ready to go until November 2018, but dealers will install new pumps identical to the pumps used now, at least until new permanent coolant pumps are available.
Audi will send initial recall notices on June 11 with details about the coolant pump recall, then second notices will be mailed once permanent parts are available.
Owners with concerns should call 800-253-2834 and ask about recall numbers 19N3 and 19N4.
CarComplaints.com has owner-reported complaints about the Audi vehicles listed in the pump recall: