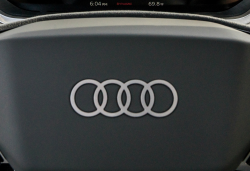 — Audi Q7 and Q5 fuel pump flange leaks will finally be fixed following interim repairs that didn't work too well.
The 6,000 recalled 2007-2012 Audi Q7 and 2009-2012 Audi Q5 vehicles were previously repaired between December 2016 and April 2017 when there was a shortage of replacement fuel pump flange parts.
Audi dealers installed butyl tape to the fuel pump flanges for the interim repairs until replacement parts became available. But Audi says the butyl tape may not have been good enough to prevent fuel leaks and fires.
Under the 2016 recall, dealers inspected the fuel pump flanges and the butyl tape was applied to the flanges as interim repairs if minor cracks but no leaks were discovered. Vehicles that were found to be leaking fuel received replacement fuel pump flanges.
Audi engineers still haven't determined the root cause of the fuel pump flange cracks, but there are indications outside liquid contamination corrodes the flanges.
Audi says plenty of replacement parts are now available to dealerships for technicians to install new fuel pump flanges, and butyl tape will again be applied to help protect the new fuel pump flanges from outside contamination.
The Audi Q5 and Q7 recall should begin December 31, 2018.
Affected customers with questions should call Audi at 800-253-2834 and ask about recall number 20BJ.
CarComplaints.com has complaints from drivers of Audi Q5 and Audi Q7 vehicles.