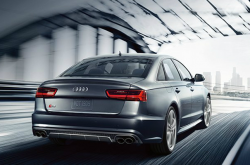 — Audi is recalling nearly 140,000 vehicles with passenger-side frontal airbags that may fail in a crash.
Recalled are the 2013-2018 Audi S6 and S7, 2012-2018 A7 and A6 and 2014-2018 RS 7 vehicles equipped with basic seats.
The automaker says the basic seats, whether heated or not, have sensing mats that can wear down and cause the occupant detection systems to fail.
The mats are used to indicate the size of the passengers sitting in the front passenger seats, but damage to the mats can cause the systems to misread the size of the passengers. An adult sitting in the seat may be interpreted as a child, something that will cause the airbag to fail in a crash.
Audi has known about the problem since at least September 2016 because it had been monitoring complaints about the systems and noticed an increase in reports.
Drivers will be alerted to any malfunctions by the illumination of airbag monitoring lights and "Passenger Airbag OFF" warnings.
The recall is scheduled to begin July 31, 2018. Audi dealers will install new passenger occupant detection system repair kits.
If you own a 2013-2018 Audi S6, S7, 2012-2018 A6, A7 or 2014-2018 RS7 and have questions about the recall, contact Audi at 800-253-2834 and ask about recall number 74D5.
CarComplaints.com has complaints from owners of the Audi vehicles named in the recall.