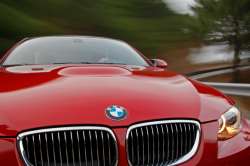 — A BMW M3 connecting rod and main bearings lawsuit has been filed as a class-action complaint for New Jersey owners and lessees of 2008-2013 M3 cars equipped with S65 engines.
According to the lawsuit, the S65 is a 4-liter V8 double overhead camshaft piston engine with defective connecting rod bearings, main bearings, rod clearances and insufficient oil lubrication. The lawsuit refers to these things combined as the rotating assemblies.
Plaintiff Joselyn Urena purchased a used 2011 E92 BMW M3 in 2014 from a BMW dealer in New Jersey when the car had nearly 30,000 miles on the odometer.
Urena says the M3 experienced total engine failure when it had 36,395 miles and was towed back to the BMW dealership that said the engine seized from "over-revving." The plaintiff says the dealer declined to repair the car under warranty, so she had it towed to a different shop that said it would cost $15,000 to replace the S65 engine.
Urena says she refused to pay for an engine replacement and lost the use of the car. She also stopped making payments on the vehicle by claiming BMW knew the rod and main bearings were defective.
According to the plaintiff, the M3 was eventually repossessed by BMW Financial, even though the automaker allegedly knew dozens of owners had complained about engine problems.
Numerous M3 owners have allegedly complained about rattling and ticking noises coming from the engines, symptoms of rod bearing failures. And many of those owners also allegedly reported the engines completely failed.
Based on court documents, the connecting rod bearings and main bearings fail and cause metal debris to enter the engine oil which is then circulated through the engines.
The plaintiff claims the defects existed from the time the cars were manufactured and typically start showing symptoms during or shortly after the warranty periods. The risk to safety while driving is allegedly real because the engines stall and fail while driving and sometimes without warning.
In addition, catastrophic engine failure may cause a physical hole in the engine block and allow hot engine oil to escape, leading to possible fires or oil leaking onto the tires and road.
According to the plaintiff, BMW knows about the engine problems but has refused to admit it because it would lower the value of the cars. The automaker has also allegedly refused to repair damage to the rod and main bearings under warranty, often ignoring symptoms of engine damage to the point the engine must be replaced.
Despite alleged knowledge of rotating assembly defects, BMW refuses to reimburse owners and lessees who have suffered from S65 engine failures and won't recall the cars to finally fix all the problems.
The BMW M3 rod and main bearings lawsuit was filed in the Superior Court of New Jersey, Bergen Division - Joselyn Urena, et al., v. BMW of North America.
The plaintiff is represented by Lite DePalma Greenberg.