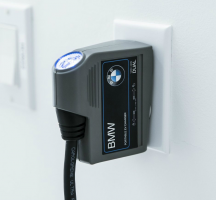 — A BMW TurboCord charger recall has been issued for more than 3,500 vehicles that were equipped with the portable chargers when the vehicles were sold.
BMW says the TurboCords in these vehicles are at risk of causing electrical shocks and fires.
2016-2018 BMW 330e
2018-2019 BMW 530e / 530e xDrive
2017-2019 BMW 740Le xDrive
2014-2019 BMW i3 BEV / i3 REx
2018-2019 BMW i3 Sport BEV / i3 Sport REx
2014-2019 BMW i8 / i8 Roadster
2016-2018 BMW X5 xDrive40e
2018-2019 MINI Cooper SE Countryman
The TurboCord chargers, which can cost $400 to $500 each, weren't manufactured according to specifications because capacitors on the circuit board assemblies are out of whack. BMW says the chargers can overheat and catch fire while in use.
The BMW TurboCord charger recall is expected to begin November 12, 2018. Dealers will replace any faulty charging cables in the 3,500 vehicles.
BMW customers with questions about using the chargers should call BMW at 800-525-7417 or MINI at 866-825-1525.