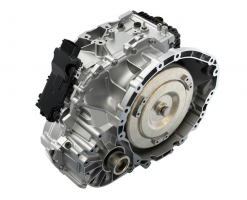 — A Chrysler 9-speed transmission lawsuit awaits final approval of a judge after the automaker and the plaintiffs agreed to settle the complaint before the case went to trial.
The class-action lawsuit alleges the 9-speed ZF 9HP transmissions cause sudden, delayed and rough shifting as a grinding noise is heard during shifting. Customers also claim the transmissions experience reduced power when the vehicles shift into gear, and the vehicles can jerk during a harsh engagement of the gears.
In addition, the plaintiffs claim the transmissions can suddenly fail because Chrysler dealers don't know how to repair the problems.
The Fiat Chrysler (FCA US) 9-speed transmission class-action includes all consumers who purchased or leased a new 2014-2015 Jeep Cherokee, 2015 Jeep Renegade, 2015 Chrysler 200 or 2015 ProMaster City. In addition, the consumer must still own the vehicle and it must have been purchased or leased in the U.S.
The transmission class-action is the result of two separate lawsuits, one from 2015 when the plaintiffs said 2014 Jeep Cherokees were equipped with defective ZF 9HP automatic transmissions.
Affected customers may be eligible to receive cash payments or trade-in vouchers, but only if certain requirements are met. Additionally, all customers will automatically receive an extended warranty.
To have a chance of receiving cash or a voucher, the customer must be able to prove they made three (3) transmission-related complaints to authorized dealerships on or before November 16, 2018.
According to the Chrysler 9-speed transmission lawsuit, a transmission-related complaint is described as a report you made to an FCA dealership about one or more of the following symptoms in your vehicle: "rough, delayed, or sudden shifting; a grinding noise during shifting; harsh engagement of gears; or reduced power when the vehicle shifts into gear."
The amount of compensation you can receive is based on how many transmission-related complaints you made, and can prove you made, to Chrysler dealers.
If you can show documents that three transmission complaints were made to dealers, you may be eligible to receive a cash payment of $400, or a trade-in voucher valued at $1,000.
Documents proving you made four to five transmission-related complaints may get you $800 or a trade-in voucher worth $2,000. And proving you made six or more transmission complaints to dealerships may see you receive $2,000 in cash or a $4,000 trade-in voucher. In no situation will a customer receive compensation beyond those amounts.
A customer must submit a claim form and the required documents to receive a cash payment or voucher, but all affected FCA customers will receive an extended warranty automatically. The 9-speed ZF 9HP automatic transmission warranty will be extended to 6 years or 100,000 miles on the odometer, whichever occurs first.
The lawsuit says the extension is calculated from the date the vehicle was first delivered.
Lawyers for the plaintiffs have asked to be awarded $1.2 million for attorney fees and cost. This amount will include a service award in the amount of $5,000 made to the couple (Dolores and Albert Granillo) who filed the lawsuit.
Chrysler denies it did anything wrong and denies there are defects with the transmissions, but decided to settle to save on the great expense of continued litigation.
Although both parties have agreed to the settlement terms, the judge will hold a final fairness hearing on February 13, 2019.
If you own a 2014-2015 Jeep Cherokee, 2015 Jeep Renegade, 2015 Chrysler 200 or 2015 Ram ProMaster City, additional information and claim forms can be found at FCATransmissionSettlement.com.
CarComplaints.com has complaints about the models named in the transmission lawsuit: