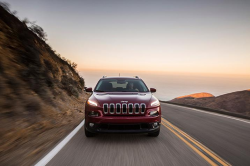 — A Chrysler 9-speed ZF 9HP transmission lawsuit may finally be reaching an end as the automaker and plaintiffs work toward a settlement agreement.
The class-action lawsuit alleges Fiat Chrysler (FCA US) sold 2014-2015 Jeep Cherokee, 2015 Chrysler 200 and 2015 Jeep Renegade vehicles with ZF 9HP transmissions that cause multiple problems.
The plaintiffs say their transmissions lose power, grind and make noise during shifting, have acceleration and deceleration problems and experience sudden, rough or delayed shifting. The lawsuit says the ZF 9HP transmissions can fail prematurely because Chrysler sold vehicles with defective transmissions.
In addition, the plaintiffs allege the safety of drivers depends on working transmissions, but safety is erased because of the defects.
The lawsuit started as two different actions against FCA, with a judge ruling a California case (Granillo, et al. v. FCA) would join with a separate transmission lawsuit filed in New Jersey.
The plaintiffs allege Chrysler has known about the transmission problems because dealers were sent technical service bulletins about owners complaining about transmissions that jumped, lurched and shook. However, owners said they continued to experience problems even after dealers performed repairs based on instructions in the bulletins.
The 9-speed transmissions have allegedly caused the Jeep Cherokee, Renegade and Chrysler 200 to lose value and caused owners repeated trips to dealerships.
According to the plaintiffs, even Chrysler and Jeep dealers have no idea how to make repairs. Dealers tried updating the powertrain control module software and transmission control module software, but owners said nothing worked.
According to the proposed settlement agreement, FCA will compensate customers up to $2,000 in cash or for a voucher for $4,000 toward a trade-in, based on the number of qualifying complaints a customer made to Chrysler about the transmissions. In addition, all affected customers will receive an extended warranty.
However, a judge must still give final approval of the settlement terms.
The Chrysler 9-speed ZF 9HP transmission lawsuit was filed in the U.S. District Court for the District of New Jersey - Granillo, et al., v. FCA US LLC, et al.
The plaintiffs are represented by the Law Offices of Howard A. Gutman, and Capstone Law APC.
CarComplaints.com has complaints about the vehicles named in the transmission lawsuit: