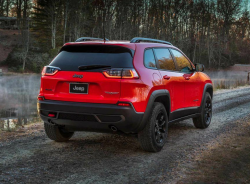 — Fiat Chrysler (FCA US) is recalling more than 88,000 model year 2019 Jeep Cherokee SUVs to prevent them from stalling while coming to a stop.
Chrysler says the Cherokees are equipped with 2.4-liter engines with problems in the transmission calibrations unique to the 2019 Cherokee 2.4-liter 4-cylinder engines. The transmission calibrations do not coordinate various aspects of transmission operation when the Cherokee slows down, causing the SUV to stall.
FCA learned of a Jeep stalling event that was captured by an in-vehicle data recorder on August 3, 2018. Engineers put the data together with what customers were complaining about and determined the root cause of the stalled engines.
Although a stalled engine while decelerating is dangerous, FCA says it is unaware of any crashes or injuries related to the problem.
However, as of October 12, 2018, Chrysler had received 46 field reports and "118 other responsive records" related to stalling events.
About 86,053 of the Cherokee SUVs are in the U.S., another 2,293 are recalled in Canada and another 12 need repairs in Mexico.
Jeep dealers will re-flash the transmission controllers with new calibrations once the recall begins December 08, 2018.
Cherokee owners may contact FCA customer service at 800-853-1403. Chrysler's recall number is UA9.