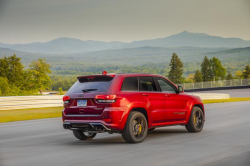 — Chrysler (FCA US) is recalling more than 1,200 model year 2018 Jeep Grand Cherokee Trackhawk SUVs with fuel lines that may separate and cause the vehicles to stall or catch on fire in the engine compartments.
The SUVs are equipped with 6.2-liter supercharged engines and were built October 10 to December 10, 2017.
On December 19, 2017, FCA opened an investigation after a report of possible problems with the fuel lines. Chrysler engineers, working with engineers from supplier Martinrea Intl Inc, analyzed two failed parts and discovered a sensor that was misaligned on a machine that assembled the parts.
Although no reports have been received about crashes, injuries or warranty claims, the automaker decided the safest course of action was to order a recall.
According to Chrysler, 2018 Jeep Grand Cherokee Trackhawk SUVs without 6.2L supercharged engines are not affected by this recall because the problematic parts were assembled by the supplier on a different production line.
The recall is expected to begin March 2, 2018, so dealers can inspect the fuel lines, and if needed, replace those lines.
Owners of the recalled 2018 Jeep Grand Cherokee Trackhawks may call 800-853-1403 and refer to recall number U02.
CarComplaints.com has owner-reported complaints about Jeep Grand Cherokees and other Jeep models.