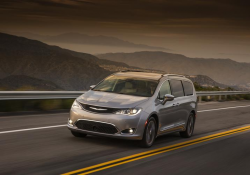 — Chrysler is recalling more than 240,000 Pacifica minivans that may roll away due to problems with the manual park releases.
The 2017-2018 Pacificas have manual park releases that can be accessed by the removal of the shifter override plugs without the need for any tools.
Chrysler learned of problems in March after tests were conducted that indicated the force to remove the plug was below specifications, allowing the plug to be removed without a tool.
The rollaway risk is there if the manual park release is engaged unintentionally.
The recalled minivans were built between June 15, 2016, and April 6, 2018, when workers began using redesigned plugs with a higher pullout force and requiring the use of a screwdriver or other tool.
Minivans manufactured after April 6 are not affected by the recall.
The recall is expected to begin August 3, 2018, when Chrysler dealers will replace the manual park release plugs.
If you own a 2017-2018 Chrysler Pacifica minivan and have concerns, call the automaker at 800-853-1403. Chrysler's recall number is U50.
CarComplaints.com has owner-reported complaints about the 2017 Chrysler Pacifica, 2018 Pacifica and other model years.