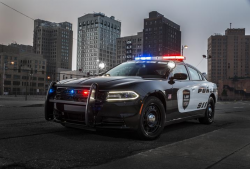 — FCA US (Chrysler) is recalling nearly 14,000 Dodge Charger Pursuit police cars because the universal joints may break or seize and cause the driveshafts to separate from the cars.
This is not something a cop would want to happen during a high-speed pursuit, but that's what happened to get Chrysler's attention.
The 2015-2018 Dodge Charger Pursuit cars are equipped with V8 engines and all-wheel-drive, model code LDEE48. That code is important because Chrysler says similar police cars aren't affected by the recall.
Chrysler opened an investigation in February following a report about a detached driveshaft during a police pursuit. Police departments were contacted concerning any issues with the front driveshafts and U-joints and the affected parts were collected by the automaker.
In March, engineers inspected a police car that experienced signs of early driveshaft failure but could find no vibrations or noise. However, the part was removed for scientific testing, and Chrysler decided to issue the recall to get the problems repaired.
FCA has received 43 warranty claims but is unaware of any crashes or injuries related to the driveshafts.
Chrysler knows the driveshaft/U-joint problem started when the 2015 model year went into production because that's when the V8 all-wheel-drive police package was added. The U-joints were updated in March 2018 when the parts were improved concerning temperature capability.
The Dodge Charger Pursuit recall is expected to begin June 20, 2018. Dodge dealers will replace the front driveshafts, but police agencies with concerns should call FCA at 800-853-1403.
Chrysler's number for this recall is U37.
CarComplaints.com has complaints about Dodge Charger cars.