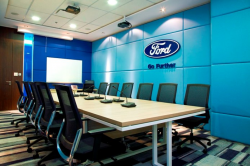 — A Ford PowerShift transmission class-action lawsuit has come down in favor of 291 owners of Ford Fiesta and Ford Focus cars in Thailand.
Ford was sued by hundreds of Ford Focus and Fiesta owners who wanted $18.5 million in compensation along with buybacks of the cars. Class-action lawsuits in the U.S. are on court dockets weekly, and many times on a daily basis.
But the Thai class-action lawsuit was the first of its kind since class suits were added to the civil code some years ago.
A Bangkok court ruled Ford must pay $720,000 to the Ford owners, a far cry from the car buybacks and the $18.5 million Fiesta and Focus owners wanted. But the experience for about 291 Ford owners in Thailand is considered a huge win for a group of consumers who say they are typically left out after making complaints.
Ford had blamed Fiesta and Focus owners for the PowerShift transmission problems because owners were told the cars needed new clutches and that Ford would pay for them.
Ford had been offering to replace the clutch for free since 2016, in addition to providing a 2-year warranty extension that followed a 2013 warranty extension for the clutch, input shaft seal and transmission software calibration.
Fiesta and Focus cars equipped with PowerShift 6-speed transmissions were also given priority at dealerships to have the clutches freely replaced.
But Ford said the customers who sued ignored the free offer and asked Ford to repurchase the cars at 80 percent of the original price. The automaker said it was a nonsensical request because some of the cars were four years old.
Ford customers alleged the Thai Consumer Protection Board ignored complaints about the transmissions and left owners no choice but to file suit against the automaker. The lawsuit alleges Ford falsely advertised the benefits of the PowerShift transmissions when the systems allegedly had defective clutch and gear systems.
Fiesta and Focus drivers also complained about stalled engines, braking problems and overheating engines that caused fires.
The automaker released a statement that said, "We apologise for the inconvenience caused by the Powershift transmission problems and we reiterate that we will work earnestly to take responsibility for fixing them according to our customer service procedures."
In the U.S., Ford is facing a large multidistrict litigation case over its PowerShift transmissions.