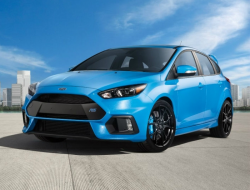 — Ford Focus RS head gasket problems will be fixed for free under customer satisfaction program 17B32 after complaints about cylinder head gaskets leaking coolant into the engine combustion chambers.
Owners of 2016-2017 Focus RS cars complain about low antifreeze levels without seeing any external leaks, in addition to seeing a noticeable amount of white smoke from the exhaust.
Although not an official recall, something the automaker will likely take heat over, Ford says program 17B32 will fix the head gasket problems and will be in effect until January 31, 2019. The program applies regardless of mileage and coverage is automatically transferred to subsequent owners.
Ford is now mailing notices that describe the program and what dealers will do to fix the head gasket failures.
If you own a 2016-2017 Ford Focus RS, your dealer will replace the head gasket and perform a pressure test of the cooling system. Based on the results of the pressure test, the dealer may replace the cylinder head assembly.
If affected owners need loaner vehicles, Ford has approved all dealers to provide rental cars to Focus RS owners for up to four days, although owners will still be responsible for fuel, insurance and taxes.
The automaker says the head gasket repairs will take less than two days, but dealers may need more time if the engine needs to cool down before the work is performed, then there is the possibility additional parts may need to be ordered.
The Focus RS cars with head gasket failures were built August 3, 2015, through July 6, 2017.
If you own a 2016-2017 Ford Focus RS, contact your dealer immediately about customer satisfaction program 17B32, even if you haven't yet received official notice.
Contact the automaker at 866-436-7332.
CarComplaints.com has owner-reported complaints about the 2016 Ford Focus, 2017 Ford Focus and other model years.