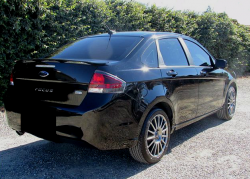 — Ford Focus rear suspension problems caused a class-action lawsuit, but Ford's arguments in court were enough to sway a jury and send Focus owners home in defeat.
The lawsuit has been going on since 2011 when the plaintiffs accused Ford of hiding defects in the rear suspensions of 2005-2011 Focus cars.
Plaintiffs Margie Daniel, Robert McCabe, Mary Hauser, Donna Glass and Andrea Duarte claim their cars needed new rear tires before the cars had 20,000 miles, all caused by suspensions with alignment and geometry defects that caused the tires to wear out fast.
The plaintiffs say the defects caused serious dangers while driving, including problems with steering, handling, stability and braking. Because the suspensions wore the tires prematurely, drivers faced threats of catastrophic tire failures and trying to handle their drifting cars while driving on wet roads.
The lawsuit further alleges Ford knew about the Focus suspension problems through customer complaints, dealership input and internal testing, yet the automaker allegedly ignored the defects.
The plaintiffs also claim they would not have purchased the Focus cars if Ford would have warned them about the suspension and tire problems.
Focus owners complain about loud noises, bumpy rides, difficulty handling the cars on wet roads and about Ford dealers that refuse to fix the problems under warranty even when the cars are supposed to be covered.
"I bought 2007 Ford Focus and had to replace tires at 16,500 miles, they were completely bald. Every year there after to this date 04/17/14, I have to put a set of tires on this car and have alignments done etc. I have never had the tires last more than 17,000 miles. It is costing me a minimum of $650.00 a year just for the set of tires. Ford is useless as far as help, they just say it's not their problem..." - 2007 Ford Focus owner / Winnemucca, Nevada
"2010 Ford Focus can't be driven if the road is wet. The backend try's to throw you to the left. It had new tires when I got it. Had it one year put anew set on and now it needs another set. My boss bought it new and had to put 3 sets on. He never found what caused it to throw the back end." - 2010 Ford Focus owner / Sebree, Kentucky
Ford won dismissal of the lawsuit in 2013, but the plaintiffs appealed to the Ninth Circuit. In 2015, the appeals court reversed the dismissal and allowed the lawsuit to proceed based on allegations that Ford violated implied and express warranties and committed fraud by selling the cars.
Although the jury handed Ford the win, affected Focus owners should continue to let others know about their experience.
The Ford Focus rear suspension lawsuit was filed in the U.S. District Court for the Eastern District of California - Daniel, et al., v. Ford Motor Company.
The plaintiffs are represented by Carney Bates & Pulliam PLLC, and Hicks Thomas LLP.
CarComplaints.com has suspension complaints about the model year Ford Focus cars named in the lawsuit: