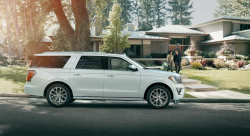 — Ford has fuel pump problems that affect about 7,500 model year 2018 Ford F-150 trucks and 2018 Ford Expedition and Lincoln Navigator SUVs equipped with 3.5-liter GTDI V6 engines.
The trucks and SUVs have misaligned welds between the high-pressure fuel pump housings and their mounting flanges that can allow fatigue cracks and fractures.
This in turn will cause the fuel pumps, made by the Robert Bosch company, to move out of their intended positions. Ford says the seals of the cam covers or fuel lines will be affected and possibly allow oil or fuel to leak.
Although oil or fuel could possibly leak and make contact with an ignition source, Ford is unaware of any fires, crashes or injuries related to the fuel pumps.
The recall includes 5,645 trucks and SUVs in the U.S., another 1,625 in Canada and 310 vehicles in Mexico.
The recall is expected to begin July 16, 2018, when dealers will replace the fuel pumps, the high-pressure fuel discharge tubes and the mounting bolts.
Affected customers with questions should call 866-436-7332 and refer to recall number 18S17.
Read what owners say about their Ford F-150s, Ford Expeditions and Lincoln Navigators.